Remember how Jawa and CZ were sold in Soviet times (in a wooden frame), and so thoroughbred Japanese motorcycle is delivered in approximately the same form how Jawa and CZ.
For many years, a high-speed motorcycle stood in this box and has never started. Complete with the motorcycle is all the factory documentation (manual, instruction manual, service book), a set of keys, rear-view mirrors, as well as a set of tools.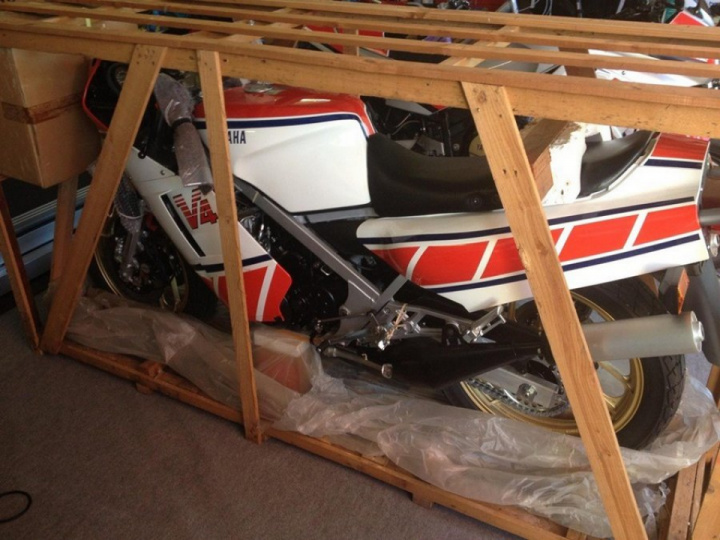 In this form, the Yamaha RZ500N was put up for sale for a very impressive (by the motorcycle markets standards) amount which is $ 38,490. Nevertheless, very quickly there was a person who wanted to purchase this motorbike in such unique preservation. The motorbike was sold in a matter of weeks.
The Yamaha RZ500N is a version of the iconic 2-stroke Yamaha RD500LC sport motorbike, which was designed for the markets of Australia and Canada. This motorcycle is a road variant of the 500 cc Yamaha YZR500 racing prototype, in which the legendary Kenny Roberts raced in the most prestigious class in the world championship motorcycle racing. That is, at the time, it was the pinnacle of Japanese engineering and design and one of the fastest serial sport-motorbikes on the market. Interestingly, the road bike was even lighter than its racing counterpart but was equipped with a deforced V4 engine with 88 hp. The maximum speed of the model is 223 km/h.
Ref: https://motoridersuniverse.com/news/1254525-unusual-find-yamaha-1985-motorcycle-with-zero-mileage.html